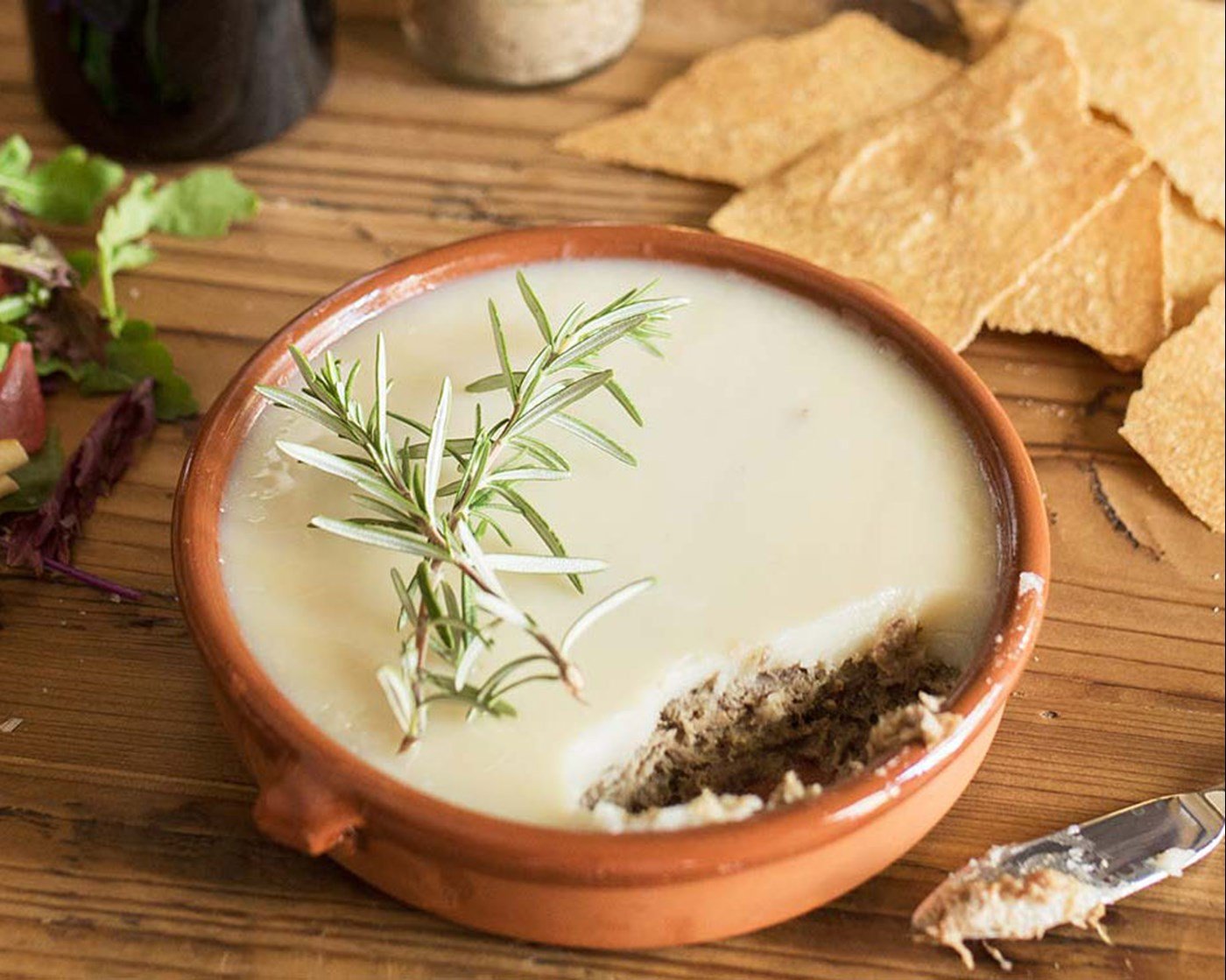 Rosemary Pork Rillette And Olive Oil Crackers With Mustard Greens
Pair with Tom Gore Vineyards Field Blend
Ingredients
FOR THE RILLETTE
3 Pounds boneless skinless pork shoulder; cut into 1 inch cubes
1 1/2 Pounds skinless pork belly; cut into 1 inch cubes
1/4 Pound pork fat; diced
2 Sprigs fresh thyme
2 Sprigs fresh rosemary
5 Bay leaves
2 Tablespoons smoked paprika
5 Garlic cloves; minced
1 Meyer lemon; juiced
Salt and pepper to taste
FOR THE CRACKERS
1 Cup all-purpose flour
1 Cup semolina flour
2/3 Cup warm water
1/4 Cup olive oil
1 Teaspoon kosher salt
1 Tablespoon sea salt
Extra olive oil for brushing
FOR THE MUSTARD GREENS
8 Ounces mustard greens
1 Meyer lemon; juiced
1 Ounce olive oil
Salt to taste
Yields: 6 servings
Instructions
In a heavy bottomed sauce pan, place the pork shoulder, pork belly, thyme, rosemary, bay leaves, and garlic and cover with water. Cook over low heat, for 4-5 hours or until meat is tender and can easily shred. Remove from heat. Discard the bay leaves, herbs, and any remaining water. Stir in pork fat, salt, pepper, and paprika.
Place meat mixture into the bowl of a standing mixer; using the paddle attachment, mix on medium speed until meat is shredded and slightly pasty looking. Season to taste. Place rillette into mason jars or other serving dish. Allow to completely chill before serving.
For the crackers, preheat oven to 450 F. In a medium bowl, combine both flours and salt. Then, add water and olive oil and incorporate with a wooden spoon. Flour your work surface and knead the dough for 7-8 minutes. Separate into 8 separate balls. Rub with olive oil. Cover with plastic and let rest for 40 minutes.
Flour a piece of parchment paper, and evenly roll out each individual dough ball. The thinner the better. Place rolled dough and parchment paper onto a sheet tray. Using a fork, poke holes through the rolled dough approximately every inch. Brush with olive oil and sprinkle with sea salt. Bake for approximately 6 minutes or until golden brown; rotating half way through.
Allow to cool. Break into rustic cracker pieces. 6. For the mustard greens, dress with lemon juice, olive oil and salt and serve with the pork rillette and crackers.
Welcome To
Please confirm you are of legal drinking age
{label}