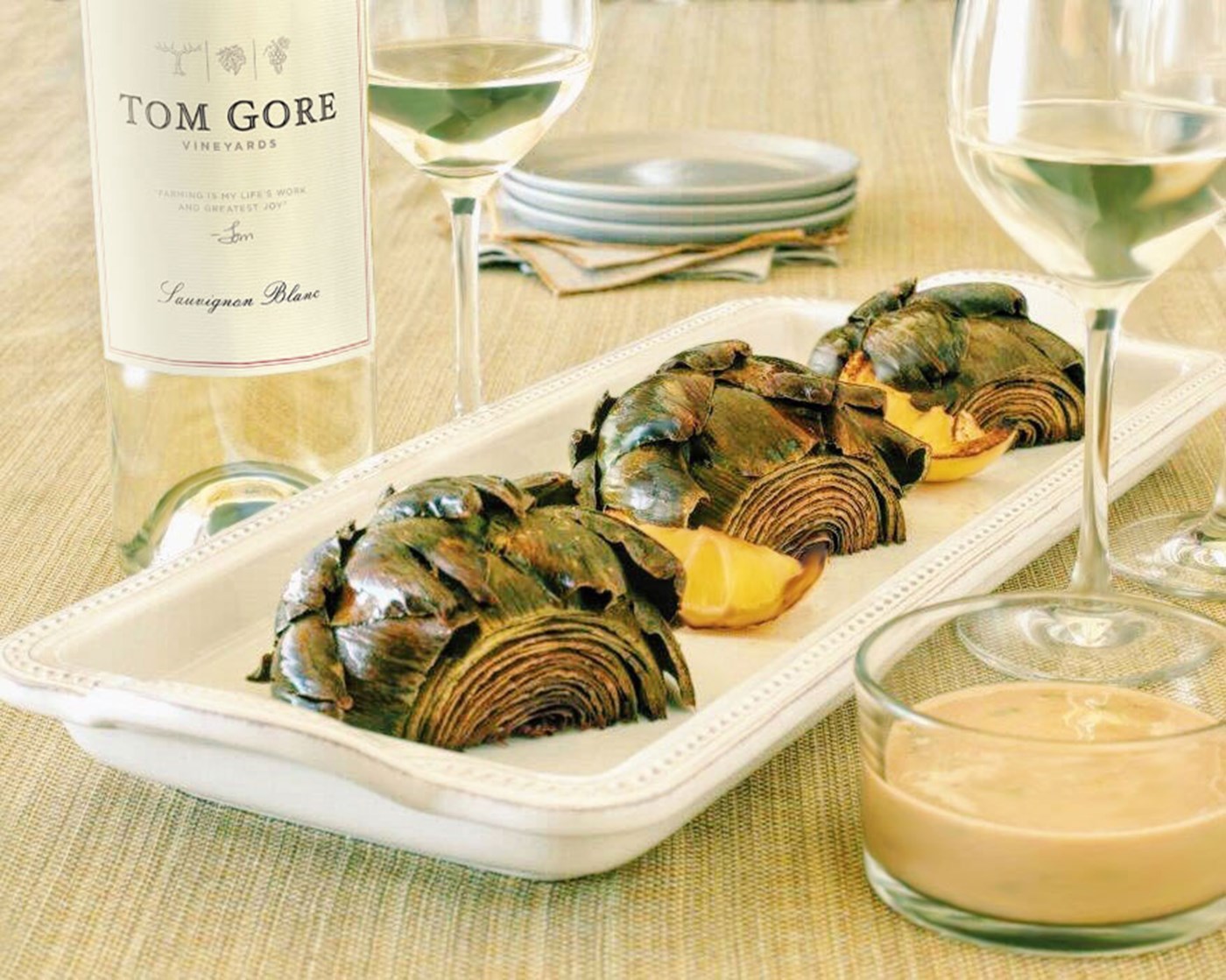 Roasted Artichokes With Fresh Tarragon And Dijon Vinaigrette
Pair with Tom Gore Vineyards Sauvignon Blanc
Ingredients
4 large artichokes
1 lemon
3 Tbsp olive oil
½ cup vegetable broth or water
1 small clove garlic peeled
4 Tbsp red wine vinegar
3 Tbsp Dijon mustard
½ cup olive oil
3 Tbsp fresh tarragon leaves removed from stems and chopped
Salt and pepper to taste
Yields: 8 servings
Instructions
Preheat oven to 450F.
Prep the artichokes by cutting them in half lengthwise, removing the choke and the tough inner leaves with a spoon. Soak in a bowl of water with the juice of the lemon to keep them from browning.
Line a rimmed baking tray with foil and 1 tablespoon of olive oil. Add the artichokes cut side down.
Rub the outside of the artichokes with the remaining olive oil and pour the vegetable broth or water around them in the pan. Place in the oven to roast 20-25 minutes, or until the heart is tender when pierced with a knife and outside leaves are slightly brown.
While the artichokes cook, make the vinaigrette by adding garlic, vinegar and mustard to a blender. Blend on high, while slowly adding the olive oil. The vinaigrette should have the consistency of heavy cream. If it is too thick, add water, 1 teaspoon at a time. Stir in chopped tarragon and season to taste with salt and pepper.
Remove the artichokes from the oven and place on a platter, serve with the vinaigrette on the side.
Welcome To
Please confirm you are of legal drinking age
{label}