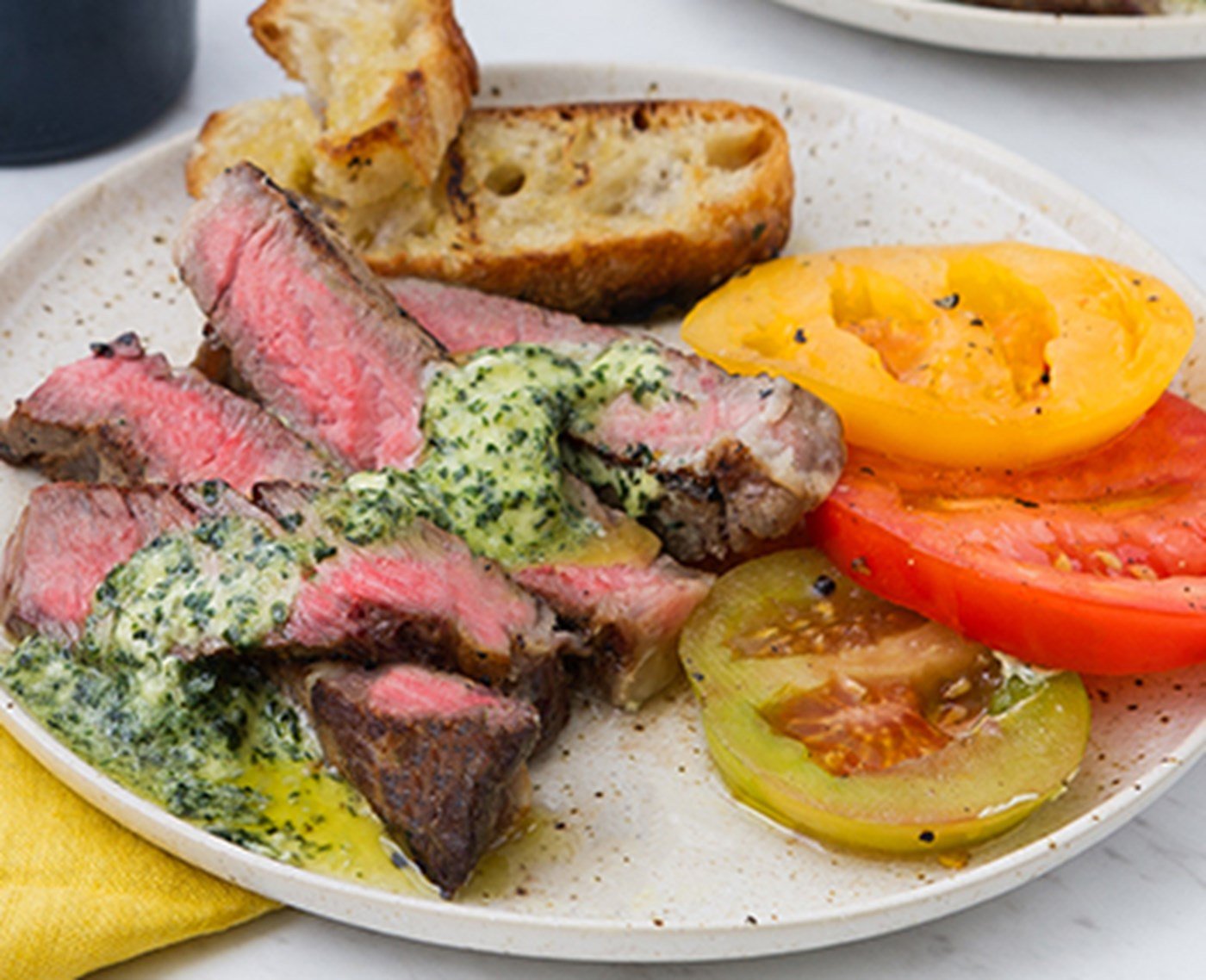 Rib-Eye Steaks With Basil Butter And Sliced Tomatoes
Ingredients
1/2 cup (1 stick) unsalted butter, softened
1 small shallot
1 garlic clove, peeled
1/2 teaspoon kosher salt, plus more for sprinkling
1/4 teaspoon freshly ground black pepper
1 cup basil leaves, loosely packed
2 1/2 pounds (2-3 steaks, depending on size) rib-eye steak
2 tablespoons olive oil, plus more for drizzling
3 large tomatoes, preferably heirloom
4 slices thick rustic bread
Yields: 4 servings
Instructions
Pulse butter, shallot, garlic, 1/2 teaspoon salt and pepper in a food processor until smooth. Scrape down the sides of the bowl, add basil, and pulse until well incorporated and smooth.
DO AHEAD: Butter mixture can be prepared up to 4 days in advance. Allow to come to room temperature before cooking the steak. NOTE: You will have extra butter...perfect for more steaks, hamburgers, chicken, eggs, and more.
Preheat oven to 350°. Preheat a grill pan over medium-high heat. Season steaks with a 5-finger pinch of salt on all sides. Sear until steaks are well browned and beginning to char around edges, about 5 minutes. Flip and repeat on the other side. Transfer to oven and cook until an instant-read thermometer inserted into thickest part of steaks registers 120° for medium-rare. Transfer steaks to a cutting board to rest and tent with foil. Meanwhile, drizzle bread with olive oil on both sides and grill until golden brown on both sides. (The grilled bread also tastes great with basil butter!)
Slice tomatoes and arrange on a platter. Sprinkle lightly with salt. Arrange sliced steak on top of tomatoes. Spread steak generously with basil butter and serve with grilled bread.
Heirloom tomatoes and the herb butter pair perfectly with the rich and full-bodied Cabernet Sauvignon from Tom Gore Vineyards.
Welcome To
Please confirm you are of legal drinking age
{label}