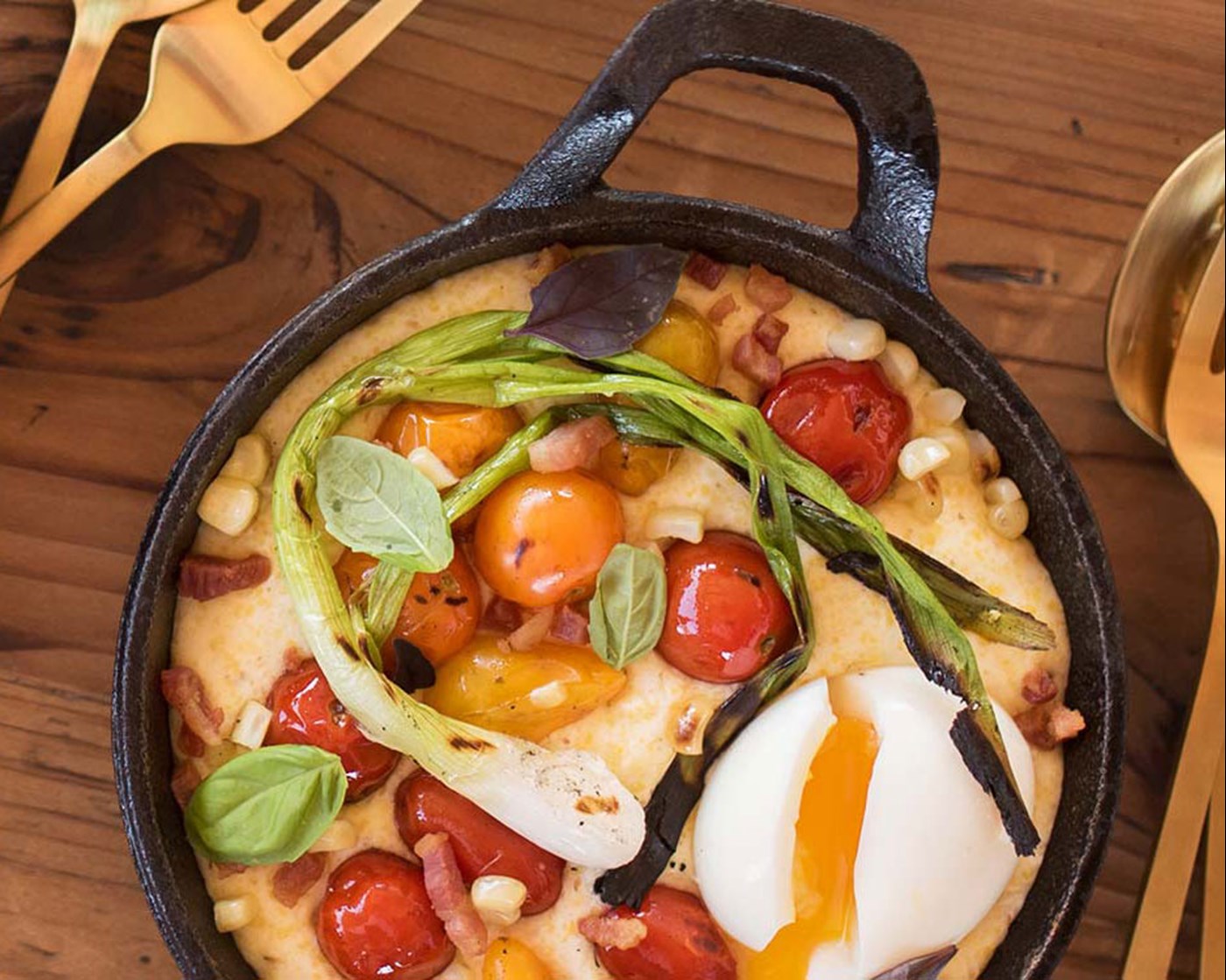 Creamy Polenta And Charred Summer Vegetables With A Soft Farm Egg
Pair with Tom Gore Vineyards Field Blend
Ingredients
FOR THE POLENTA
1 Cup dry heirloom polenta
4 Cups heavy cream
3 Garlic cloves; minced
1/4 Cup butter; room temperature
1/4 Cup Parmesan cheese; grated
Salt and pepper to taste
FOR THE SUMMER VEGETABLES
1/2 Pound Padron peppers
1/2 Pound Sun Gold tomatoes
4 Ears of corn; blanched
1 Bunch basil; torn
1/4 Cup olive oil
Salt and pepper to taste
FOR THE EGG
4 Farm fresh eggs; room temperature
3 Tablespoons salt
Yields: 4 servings
Instructions
In a heavy bottomed sauce pan, bring heavy cream and garlic to a boil. Immediately whisk in polenta and reduce heat to a low simmer. Constantly stir. Cook time will depend on the polenta being used. Our polenta takes about 40 minutes to become tender. Once tender, whisk in the butter until fully melted. Remove from heat and add the parmesan. Season with salt and pepper to taste.
Meanwhile, bring a pot of salted water to a boil. Gently place eggs into the water and allow to boil for 4 minutes. Remove from boiling water and place eggs into ice water. Allow to cool before peeling.
Toss the Padron peppers, Sun Gold tomatoes, and corn in olive oil and salt. On high heat, grill and char the Padron peppers and Sun Gold tomatoes until blistered, and the corn until partially charred. Remove from heat. Once cool enough, cut off the corn kernels from the cob.
To serve, place the polenta on the plate and then top with charred vegetables, ripped basil, and egg.
Welcome To
Please confirm you are of legal drinking age
{label}