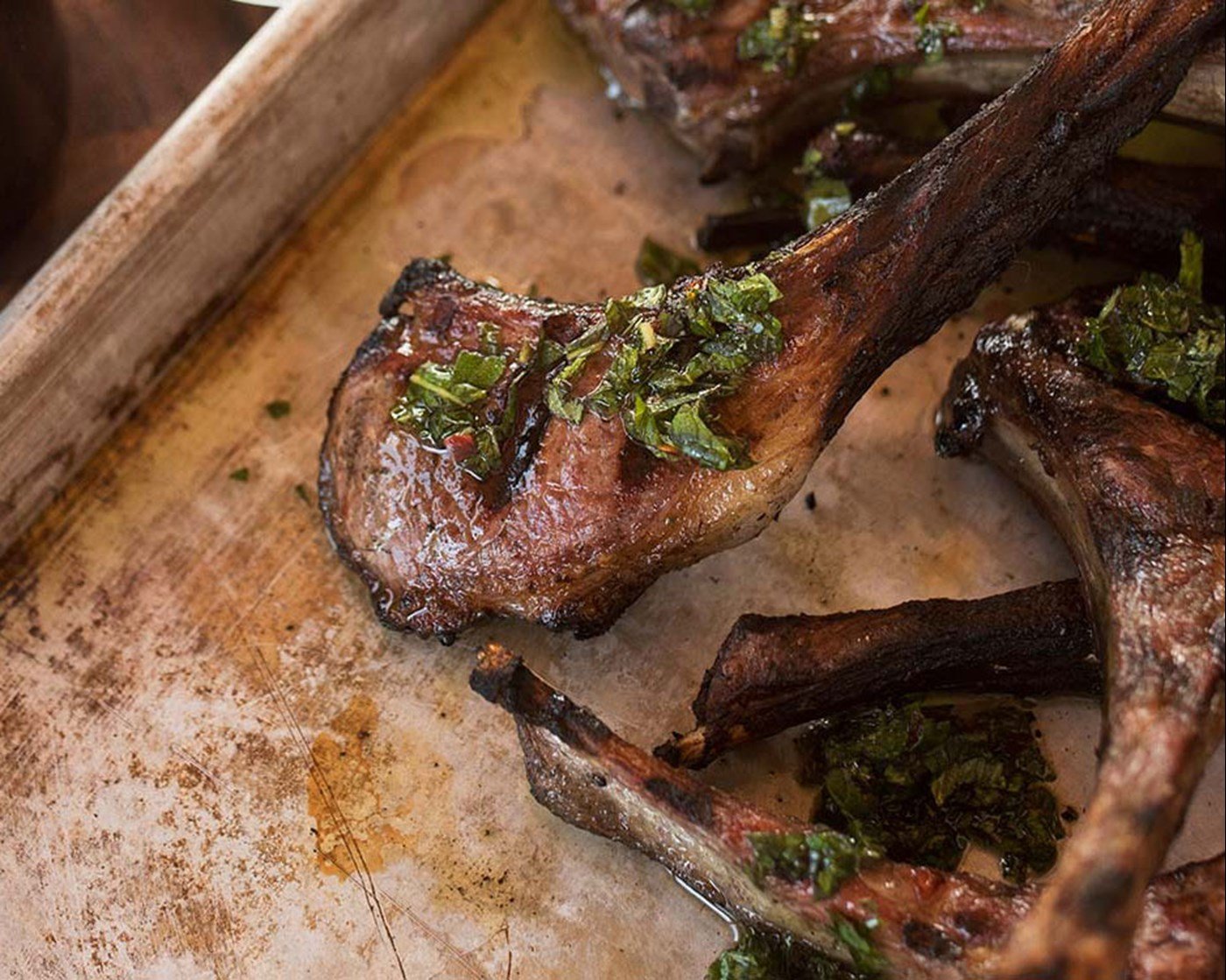 Cabernet Sauvignon And Green Garlic Marinated Lamb Chops With Mint Chimichurri
Pair with Tom Gore Vineyards Field Blend
Ingredients
FOR THE LAMB
1 Dozen individual lamb chops
Salt and pepper
FOR THE MARINADE
1 Cup Tom Gore Vineyards Cabernet Sauvignon
1/2 Cup olive oil
1/4 Cup soy sauce
2 Tablespoons spicy Dijon mustard
1/4 Cup onions; chopped
1/4 Cup green garlic; chopped
2 Sprigs fresh thyme
1 Teaspoon black pepper
FOR THE MINT CHIMICHURRI
1/4 Cup green garlic; finely minced
3 Tablespoons capers; finely minced
5 Anchovies; finely minced
1 Shallot; finely minced
1 Cup fresh parsley; finely chopped
1/2 Cup fresh mint; finely chopped
1/2 Cup fresh oregano; finely chopped
1/4 Cup fresh tarragon; finely chopped
1 Tablespoon red pepper flakes
1/3 Cup red wine vinegar
1 Cup extra virgin olive oil
2 Teaspoons black pepper
1 Teaspoon kosher salt
Yields: 4-6 servings
Instructions
Combine all marinade ingredients together and cover lamb chops. Refrigerate and let marinade for 12 hours.
Remove chops from marinade and sprinkle with salt.
Grill over high heat. About 2 minutes on each side. Let rest for 5 minutes before serving.
For chimichurri, combine all ingredients together and serve at room temperature. Drizzle over lamb and serve.
Welcome To
Please confirm you are of legal drinking age
{label}